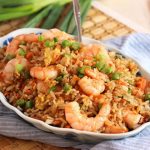 Shrimp Fried Rice
2018-04-06 17:32:16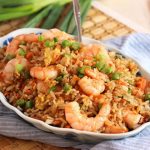 Nutrition Facts
Amount Per Serving
* Percent Daily Values are based on a 2,000 calorie diet. Your Daily Values may be higher or lower depending on your calorie needs.
Ingredients
SEASONINGS
1/4 tsp sugar
1/2 tsp accent
1 TB light soy sauce
1/2 tsp salt
INGREDIENTS
3 cups cold cooked rice (air dried)
2 onions, diced
2 stalks scallions sliced
1/2 cup green peas, or pea pods
4 chinese mushrooms, diced
3 eggs, scrambled
1 6oz pkg frozen shrimp (or use fresh)
2 tb dark soy sauce for color
3 TB grapeseed or peanut oil, divided
Instructions
Scramble eggs. Cook until dry and set aside for later.
Add pinch of baking soda to 1-2TB hot oil. Add vegetables and stir fry until onions taste done. Add seasonings and stir. When done, dish it out without liquids and wipe down wok.
Cook shrimp in oil for one minute. Dish it out and wipe wok.
Add 2TB oil to wok. When very hot, add rice and stir fry.
When crusty, dry, brown, add vegetables, scrambled eggs and shrimp.
Add dark soy sauce for color.
NoMayo https://nomayo.us/