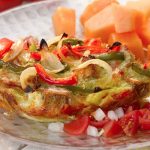 Vidalia Onion and Sweet Pepper Strata
2018-04-06 16:56:54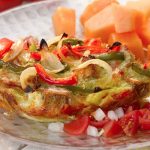 Nutrition Facts
Amount Per Serving
* Percent Daily Values are based on a 2,000 calorie diet. Your Daily Values may be higher or lower depending on your calorie needs.
Ingredients
2 tablespoons olive oil, plus more for the pan
1 medium Vidalia onion, thinly sliced
1 red bell pepper, cored, seeded and thinly sliced
1 yellow bell pepper, cored, seeded and thinly sliced
2 cloves garlic, peeled, minced
12 thin slices firm white sandwich bread, cut into 1-inch squares
2 ounces freshly grated Parme­san cheese, divided
6 large eggs
2 1/2 cups milk
2 sprigs thyme, leaves picked
Coarse salt and freshly ground black pepper
Instructions
Oil a 9x13 baking dish; set it aside
In a large saute pan, heat the oil over medium heat and saute the onion until it's golden, about 5 minutes
Add the bell peppers and saute until they are tender, about 5 minutes
Add the garlic and saute until the mixture is fragrant, about 1 minute
Place half the bread squares in the prepared baking dish; top them with half the vegetables
Sprinkle half the Parmesan over the vegetables and top with the remaining bread and vegetables
In a medium bowl, whisk together the eggs, milk and thyme; season with salt and pepper. Pour the egg mixture over the bread and vegetables.
Cover and chill the strata at least 3 hours, or up to 12.
Heat the oven to 375 degrees. Let the strata stand at room temperature 20 minutes.
Sprinkle the remaining Parmesan cheese over the strata and bake until it's puffed and golden brown around the edges, about 50 minutes.
NoMayo https://nomayo.us/