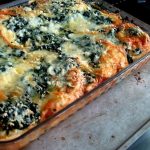 Spinach and Cheese Strata
2018-03-23 09:57:06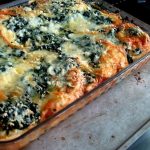 Serves 6
Nutrition Facts
Amount Per Serving
* Percent Daily Values are based on a 2,000 calorie diet. Your Daily Values may be higher or lower depending on your calorie needs.
Ingredients
1 box fresh baby spinach (stems removed)
1 1/2 cups finely chopped onion (1 large)
3 tablespoons unsalted butter
1 teaspoon salt
1/2 teaspoon black pepper
1/4 teaspoon freshly grated nutmeg
8 cups cubed (1 inch) French or Italian bread (1/2 lb)
6 oz coarsely grated Gruyere (2 c ) used low fat crumbled feta) 2 oz finely grated Parmigiano-Reggiano (1 cup)
2 3/4 cups milk ( used low fat)
9 large eggs (used 1-1/2 cartons Costco Egg Starts)
2 tablespoons Dijon mustard (used 1 T.)
Instructions
Cook onion in butter in a large heavy skillet over moderate heat, stirring, until soft, 4 to 5 minutes. Add 1/2 teaspoon salt, 1/4 teaspoon pepper, and nutmeg and cook, stirring, 1 minute. Stir in spinach, then remove from heat
Spread one third of bread cubes in a buttered 3-quart gratin dish or other shallow ceramic baking dish and top evenly with one third of spinach mixture. Sprinkle with one third of each cheese. Repeat layering twice (ending with cheeses). (used 2 8X8 Corning-type casseroles)
(instead of layering, I tossed bread and cheese, then added spinach)
Whisk together milk, eggs, mustard, and remaining 1/2 teaspoon salt and 1/4 teaspoon pepper in a large bowl and pour evenly over strata. Chill strata, covered with plastic wrap, at least 8 hours or overnight (for bread to absorb custard).
Preheat oven to 350°F. Let strata stand at room temperature 30 minutes
Bake strata, uncovered, in middle of oven until puffed, golden brown, and cooked through, 45 to 55 minutes. Let stand 5 minutes before serving.
NoMayo https://nomayo.us/