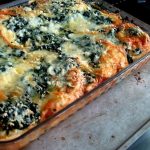 Spinach and Gruyere Quiche
2018-03-27 14:44:24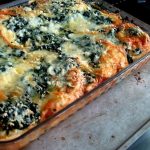 Nutrition Facts
Amount Per Serving
* Percent Daily Values are based on a 2,000 calorie diet. Your Daily Values may be higher or lower depending on your calorie needs.
Ingredients
1 tablespoon butter
3 shallots, minced
3 bunches flat-leaf spinach, thick stems removed and leaves roughly chopped
Coarse salt and ground pepper
8 ounces Gruyere cheese, grated (about 2 cups)
1 recipe Basic Pie Dough for Spinach and Gruyere Quiches, fitted into two 9-inch pie plates
8 large eggs
3 cups half-and-half
1/8 teaspoon ground nutmeg
Instructions
Preheat oven to 350 degrees, with racks set in upper and lower thirds. In a large skillet, heat butter over medium. Add shallots, and cook, stirring occasionally, until softened, 1 to 2 minutes. Add as much spinach to skillet as will fit; season with salt and pepper, and toss, adding more spinach as room becomes available, until wilted, 2 to 3 minutes.
Transfer spinach mixture to a colander. Press firmly with the back of a spoon to squeeze out as much liquid as possible. Divide spinach mixture and cheese between prepared crusts. Place each crust on a separate rimmed baking sheet.
In a large bowl, whisk together eggs, half-and-half, nutmeg, 1 teaspoon salt, and 1 teaspoon pepper. Dividing evenly, pour egg mixture into crusts.
Arrange baking sheets on racks, and bake until center of each quiche is just set, 55 to 60 minutes, rotating sheets from top to bottom halfway through. Let quiches stand 15 minutes before serving.
NoMayo https://nomayo.us/