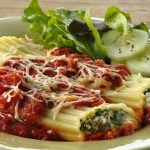 Spinach and 4 Cheese Manicotti
2018-03-29 14:58:26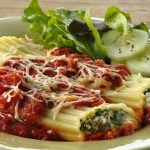 Serves 8
Nutrition Facts
Amount Per Serving
* Percent Daily Values are based on a 2,000 calorie diet. Your Daily Values may be higher or lower depending on your calorie needs.
Ingredients
Manicotti
3 tablespoons oil
1/4 cup onion, finely chopped (optional)
2 teaspoons fresh garlic (no more than that or the garlic will overpower the other ingredients!)
1 1/2 cups ricotta cheese
1 1/2 cups shredded mozzarella cheese, divided (can use a bit more)
4 ounces cream cheese, softened
1/3 cup grated parmesan cheese (can use more)
1 teaspoon italian seasoning
salt (to taste. I use seasoned salt)
1/2-1 teaspoon fresh ground black pepper (or to taste)
1 (10 ounce) package frozen chopped spinach (cooked according to package directions, then hand-squeezed dry to remove excess moisture)
8 manicotti, cooked and drained (you might use more shells so I would cook 10)
4 -6 cups marinara sauce (see my recipe#136292)
1/4 cup parmesan cheese (or to taste)
mozzarella cheese, for topping (any amount desired) Kittencal's Spinach & Four-Cheese Mani-cotti (Vegetarian)
Instructions
Set oven to 350 degrees F.
Butter a 13 x 9-inch baking dish.
In a skillet, saute onion (if using) in oil for about 4 minutes or until softened (adding in the garlic the last 2 minutes).
In a mixing bowl combine the ricotta cheese, 1-1/2 cup mozza cheese, cream cheese, 6 table-spoons Parmesan cheese, Italian seasoning; beat with a wooden spoon until smooth and well combined.
Season with white salt or seasoned salt and black pepper to taste.
Stir in onion mixture and spinach; mix well to combine.
Spoon into cooked and cooled manicotti shells.
Pour half of the pasta sauce into the prepared baking dish.
Arrange shells over sauce (at this point you may cover and refrigerate for up to 24 hours, or continue with the recipe as follows).
Top with the remaining sauce, use a spoon to spread the sauce over the shells (the sauce does not have to cover the shells completely).
Sprinkle about 1/4 cup Parmesan cheese (or to taste) over the sauce.
Cover and bake for 25 minutes.
Uncover and top with mozzeralla cheese (any amount desired).
Bake 5 mins longer, or until cheese is melted.
Let stand 10 mins before serving.
Notes
Note; If desired the spinach can be omitted completely.
NoMayo https://nomayo.us/