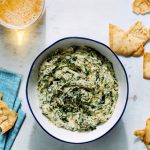 Fresh Spinach Dip
2018-09-19 09:42:40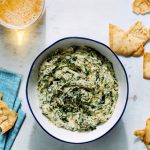 Nutrition Facts
Amount Per Serving
* Percent Daily Values are based on a 2,000 calorie diet. Your Daily Values may be higher or lower depending on your calorie needs.
Ingredients
1 pound fresh baby spinach
1 cup water
2 tablespoons unsalted butter
1 medium shallot, finely chopped
1/2 teaspoon paprika
8 ounces cream cheese, softened
1/3 to 2/3 cup heavy cream
1/2 teaspoon kosher salt
1/4 teaspoon freshly ground black pepper
Instructions
Coarsely chop spinach and cook in a pot with the water on medium-high until spinach is wilted. Drain spinach in a colander and let cool.
Melt butter in a pan and saute shallot.
Add spinach and all other ingredients, cooking and stirring until warmed through. Serve warm, or cover and refrigerate. Reheat before serving.
Stir-in variations: To the finished dip, add one of these options: 1 to 2 teaspoons Sriracha sauce or chili-garlic sauce; 1/4 cup bacon bits and 1 teaspoon smoked paprika; 1/4 cup spicy salsa; or 1 tablespoon canned chopped chiles in adobo sauce.
Notes
I haven't tried this yet. (9/20/18)
Adapted from Costco Connection
Adapted from Costco Connection
NoMayo https://nomayo.us/