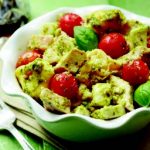 Tortelloni Caprese Salad
2018-09-19 09:48:27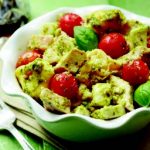 Nutrition Facts
Amount Per Serving
* Percent Daily Values are based on a 2,000 calorie diet. Your Daily Values may be higher or lower depending on your calorie needs.
Ingredients
1 package (24 ounces) Kirkland Signature Five Cheese Tortelloni
16 ounces Kirkland Signature Grilled Chicken Breast Strips (omit for a vegetarian version)
16 ounces BelGioioso Fresh Mozzarella, pre-sliced log
2 to 3 cups cherry tomatoes
1 to 2 cups Basil Pesto
¼ to ½ cup Parmigiano-Reggiano, grated
Fresh basil for garnish
Balsamic vinegar, to taste
Instructions
Prepare the tortelloni according to package directions, drain and set aside.
Cut the chicken strips and mozzarella into bite-size pieces. Halve the cherry tomatoes, if large.
Place tortelloni, chicken and tomatoes in a large bowl; toss with 1 to 2 cups of pesto, using enough pesto to thoroughly coat.
Allow pasta dish to cool a bit and toss in mozzarella cubes. Garnish with grated Parmigiano-Reggiano and fresh basil. Drizzle with balsamic vinegar before serving, if desired. Can be served warm, cold or at room temperature.
Makes 8 to 10 servings.
Notes
I haven't tried this yet (9/20/18)
Adapted from Costco Connections
Adapted from Costco Connections
NoMayo https://nomayo.us/