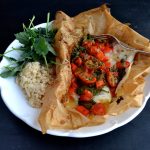 Tilapia en Papillote
2018-05-22 20:37:54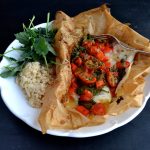 Nutrition Facts
Amount Per Serving
* Percent Daily Values are based on a 2,000 calorie diet. Your Daily Values may be higher or lower depending on your calorie needs.
Ingredients
4 tilapia fillets
Salt and freshly ground white pepper to taste
2 tablespoons olive oil
6 tablespoons finely chopped shallots
2 teaspoons finely chopped garlic
4 teaspoons finely chopped fresh tarragon, or 2 teaspoons dried tarragon
8 ripe plum tomatoes cut into small cubes (or one 28-ounce can of tomatoes, drained and chopped)
¼ cup red wine vinegar
¼ cup drained capers
1 cup dry white wine
2 tablespoons tomato paste
Sliced lemons (optional)
Instructions
Cut 4 (15- x 13-inch) rectangles of parchment paper; fold each rectangle in half lengthwise. Place parchment sheets on an ungreased baking sheet, and open out flat.
Saute the shallots and garlic. Cook briefly; add the tarragon, tomatoes, vinegar, capers, wine and tomato paste.
Place 1 fillet on half of each parchment sheet near the crease. Drizzle tomato mixture over fish. (optional: top with lemon slices)
Fold paper edges over to seal securely; cut off open corners to make a half-moon. Starting with rounded edge of fold, pleat and crimp edges of parchment to make an airtight seal. Bake at 400° for 15 minutes or until packets are puffed.
To serve, place packets on individual serving plates. Cut an opening in the top of each packet, and fold paper back. Serve immediately.
Adapted from NYT Chicken Breasts with Tomatoes and Capers
Adapted from NYT Chicken Breasts with Tomatoes and Capers
NoMayo https://nomayo.us/