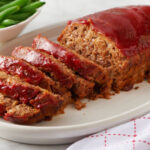 Meatloaf With Red Wine Mushroom Gravy
2020-07-25 12:42:13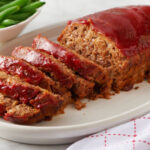 Nutrition Facts
Amount Per Serving
* Percent Daily Values are based on a 2,000 calorie diet. Your Daily Values may be higher or lower depending on your calorie needs.
Ingredients
For the meatloaf
2 ¼ pounds ground beef (chuck is probably best but I use a little leaner cut)
1 egg + 1 yolk
⅓ cup onion, diced
¼ cup carrot, diced
¼ cup red bell pepper, diced
¼ cup celery, diced
¼ cup portobello mushrooms, diced
2 tsp garlic, minced
⅔ cup bread crumbs (may need a little more to hold loaf together)
⅓ cup crushed tomato, canned SEE NOTE BELOW (I use canned chopped tomatoes, drain the liquid, then add some liquid back in, if necessary)
1 Tbl yellow mustard
2 tsp Tabasco sauce
1 Tbl Worcestershire sauce
Optional - see note below - ⅓ cup ketchup + ⅓ cup for glazing (I use ¼ cup in the loaf and a few Tablespoons for glazing)
2-3 slices of bacon
______________________
For the red wine sauce
4 TB butter
1 pound button mushrooms, sliced
½ cup onion, chopped
1 cup red wine
4 TB flour
3 ½ cups beef broth
Pepper to taste
Instructions
Preheat oven to 325.
Combine all ingredients (except the ketchup for glazing and the bacon) in a bowl and mix well. I use my hands.
The original recipe says to use a 10-inch loaf pan but I use a 9x13 glass dish. If you use the glass dish, mound the meat into a loaf in the center of the dish (see the attached picture).
Spread the ketchup reserved for glazing on the top.
Place uncooked bacon over the top.
Bake until internal temperature reaches 155 degrees, about 1 ½ to 2 hours.
Serve with mushroom gravy.
RED WINE SAUCE
Melt the butter in a pan.
Add the mushrooms and cook over medium-high heat until all of the liquid from the mushrooms is absorbed.
Stir frequently, so the mushrooms brown but don't burn.
Add the chopped onion and red wine.
Continue cooking until the wine has been reduced.
Add the flour.
Stir well so that the flour absorbs the remaining liquid.
Add beef broth all at once and stir constantly until the gravy thickens.
Season with pepper and serve over slices of the meatloaf.
Notes
I didn't put any ketchup in the meatloaf. Instead I use the whole 14.5 can of tomatoes after I drained them. I also did not need any of the juice from the tomatoes.
Another cook made the sauce with chicken broth to serve with chicken and said it was terrific. I haven't tried that yet.
NoMayo https://nomayo.us/