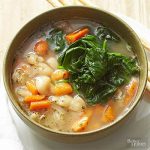 Tuscan Kale and Cannellini Bean Soup
2018-02-08 20:40:59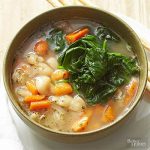 Nutrition Facts
Amount Per Serving
* Percent Daily Values are based on a 2,000 calorie diet. Your Daily Values may be higher or lower depending on your calorie needs.
Ingredients
1 1/2 pounds Lacinato (Tuscan) kale, tough stems removed, coarsely chopped
Coarse salt and freshly ground pepper
2 tablespoons olive oil
1/3 cup finely chopped red onion
3 garlic cloves, thinly sliced
1 dried red chili, such as chili de árbol, crumbled
1/2 teaspoon fennel seeds
5 cups vegetable stock, preferably homemade
8 ounces dried cannellini beans, soaked (or 2 cans cannellini beans, drained)
1 tomato, seeded and finely chopped (or one 14-ounce can diced tomatoes, drained)
1/4 loaf Tuscan bread (about 6 ounces), cut into 1/2-inch-thick slices and toasted
Freshly shaved Parmesan cheese (optional)
Juice of 1/2 lemon (optional)
Instructions
Prepare an ice-water bath. Blanch kale in a large saucepan of boiling salted water until just tender, 3 to 5 minutes. Drain, reserving 1/4 cup cooking liquid. Transfer kale to ice bath to stop the cooking; drain.
Heat olive oil in a large saucepan over medium. Add onion; cook, stirring occasionally, until tender, about 5 minutes. Add garlic, chili, and fennel seeds; cook, stirring occasionally, 2 minutes.
Stir in stock, beans and tomato. Bring to a boil. Reduce to a simmer, and cook, stirring occasionally, until beans are tender, about 45 minutes (15 minutes if using canned beans).
Add kale and reserved cooking liquid. Season with salt and pepper and lemon juice if using. Cook, stirring, until kale is warmed through and very tender, about 5 minutes. To serve, divide bread and soup among 4 bowls, sprinkle with shaved Parmesan, if using.
Notes
To make it easier, I used canned beans and now that Trader Joe's offers washed, chopped and bagged fresh kale, my meal prep is cut by minutes.
Winter calls for robust flavors as well as for foods that are substantial and nourishing. This hearty Italian soup, which pairs bitter greens with buttery white beans, satisfies on both counts. Recipe adapted from "Meatless" from the kitchens of Martha Stewart Living.
Adapted from Martha Stewart Living
Adapted from Martha Stewart Living
NoMayo https://nomayo.us/