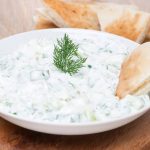 Tzatziki
2018-02-14 21:31:43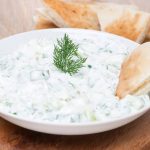 Nutrition Facts
Amount Per Serving
* Percent Daily Values are based on a 2,000 calorie diet. Your Daily Values may be higher or lower depending on your calorie needs.
Ingredients
2 cups plain nonfat yogurt
1 large cucumber (hothouse if desired), washed, cut in half, seeded
Juice of 1 lemon
1 clove garlic, finely minced
Freshly ground black pepper
1 tablespoon olive oil
1 tablespoon fresh dill (or 1 teaspoon of dried dill)
Instructions
If using dried dill, mix yogurt and dill. Place yogurt into strainer lined with cheese cloth or coffee filter. Let it sit overnight. Shred cucumber, toss with 1/2 teaspoon salt, place in strainer like the yogurt.
When ready to serve, combine the strained yogurt with cucumber, lemon juice, garlic and fresh dill (if using). Drizzle with olive oil and serve.
Notes
Created by Julie Fromm, RD, for Heart Smart and tested by Susan M. Selasky for the Free Press Test Kitchen. Analysis per 1/4 cup. 56 calories (32% from fat), 2 grams fat (0 grams sat. fat, 0 grams trans fat), 7 grams carbohydrates, 4 grams protein, 44 mg sodium, 1 mg cholesterol, 124 mg calcium, 1 gram fiber. Food exchanges: 1/2 milk.
NoMayo https://nomayo.us/