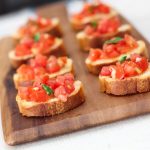 Tomato Bruschetta on Garlic Toasts
2018-02-14 21:28:31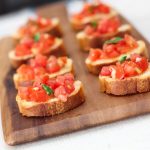 Serves 4
Nutrition Facts
Amount Per Serving
* Percent Daily Values are based on a 2,000 calorie diet. Your Daily Values may be higher or lower depending on your calorie needs.
Ingredients
TOMATO TOPPING
5 medium-sized sun-ripened tomatoes
1/3 cup thinly shredded fresh basil leaves
1/2 tablespoon balsamic vinegar
1/2 tablespoon olive oil
1/2 teaspoon kosher salt, plus extra as needed
1/4 teaspoon freshly ground black pepper, plus extra as needed
1/4 teaspoon red pepper flakes (optional)
GARLIC TOASTS
8 slices baguette-style bread, each about 1inch thick 1or 2 large garlic cloves, halved
1-1/2 tablespoons olive oil
FOR SERVING
3 tablespoons thinly shredded fresh basil leaves
Instructions
Preheat a broiler or grill.
For the spicy tomato topping, cut each tomato vertically in half, cutting down through the core at its stem end. Cut a V-shaped notch on either side of the core in each half to remove the core. Coarsely cut the tomato halves into 1/2-inch dice.
In a medium mixing bowl, combine the diced tomatoes, basil, vinegar, oil, salt, black pepper and optional red pepper flakes. With a fork or spoon, gently stir the ingredients together until thoroughly combined. Taste and adjust the seasonings, adding a little more red pepper if you would like a spicier topping. Set this mixture aside at room temperature.
For the garlic toasts, broil or grill the bread slices until golden brown on both sides. With the cut side of a garlic clove half, generously rub one side of each toasted bread slice. Brush the garlic-rubbed side of each slice with the oil. Place the slices on aserving platter or individual plates with their garlic-rubbed sides up.
Using a slotted spoon divide the tomato mixture evenly among the bread slices, letting excess liquid drain from the spoon before you mound the mixture neatly but casually on top of each slice. Garnish with the shredded basil and serve immediately.
NoMayo https://nomayo.us/