'Angry' Sicilian Pasta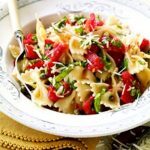 The "angry" in the dish's title refers to the inclusion of crushed red pepper, but frankly the little bit in the recipe does not provide much heat at all, and you may want to add a lot more.
2 large (ripe tomatoes, chopped)
½ cup shredded fresh basil
¼ cup capers (rinsed and patted dry)
¼ cup chopped fresh spearmint
2 tablespoons chopped fresh oregano
1 garlic clove (grated (see story) or minced)
¼ teaspoon crushed red pepper
1/3 cup extra-virgin olive oil
Salt
1 pound bow-tie pasta
½ cup freshly grated pecorino
1. In a large serving bowl, toss together the tomatoes, basil, capers, mint, oregano, garlic, red pepper and olive oil. Add salt to taste. (The sauce can be made up to an hour ahead of time. Cover and let stand at room temperature.)
2. Meanwhile, bring a large pot of salted water to a boil. Add the pasta, stir well, and cook, stirring frequently, until al dente. Scoop out some of the cooking water and reserve.
3. Drain the pasta. Add the pasta to the bowl, with a little of the reserved cooking water if needed, and toss well. Add the cheese and toss again. Serve hot or warm.