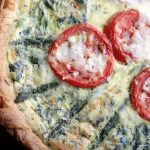 Asparagus Quiche with Phyllo Crust
2018-01-30 16:44:12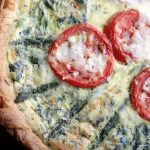 Makes: One 9-inch quiche (8 slices) / Preparation time: 15 minutes / Total time: 1 hour You can rewrap and freeze the unused phyllo dough.
Nutrition Facts
Amount Per Serving
* Percent Daily Values are based on a 2,000 calorie diet. Your Daily Values may be higher or lower depending on your calorie needs.
Ingredients
4 large eggs
1 cup low-fat milk
1/2 cup fat-free or low-fat half-and-half
11/4 cups Italian-blend cheese
3 tablespoons all-purpose flour
1/2 teaspoon dried Italian seasoning
Salt and pepper to taste
8 sheets phyllo dough, thawed, 9-by-14-inch sheets
3 tablespoons unsalted butter, melted
2 teaspoons olive oil
11/2 cups asparagus, cut in 1-inch pieces (plus 8 spears, about 3 inches long, with tips)
11/2 cups frozen leaf spinach or fresh spinach
4 thin slices of tomatoes
Instructions
Preheat the oven to 350 degrees. Have ready a 9-inch deep-dish pie plate. In a medium bowl, whisk together the milk, half-and-half, cheese, Italian seasoning, flour, salt and pepper. Set aside.
Set the phyllo on a clean work surface and cover with a damp paper towel. Working with one sheet at a time, brush it lightly in streaks with the melted butter. Place one sheet in the pie plate in the center allowing at least 1 inch to hang over the edge. Brush another sheet and place it on top of the first one crosswise. Continue brushing the sheets with butter and layering them in this fashion, making sure you have an overhang around the entire edge. Fold the overhang over to form an edge and brush with butter.
Bake for 6-8 minutes.
Meanwhile, in a small skillet, heat the olive oil. Add the asparagus pieces and sauté 3 to 5 minutes. Add the spinach and sauté 2 minutes or until almost dry. Season with salt and pepper to taste.
Remove partially baked phyllo crust from the oven. Place the asparagus-spinach mixture over the bottom of the crust. Pour the milk mixture over the asparagus. Arrange tomato slices in the center and then arrange the 8 asparagus spears in a circular pattern out from the tomato slices.
Bake 30 to 35 minutes or until filling is set and slightly puffy. If the edges begin to brown too quickly, cover them loosely with foil.
When filling is set, remove from the oven and let sit 10 minutes before slicing and serving.
Notes
While the custard part of today's quiche recipe is basic, feel free to change up the vegetables and use what you have on hand.
Adapted from From and tested by Susan Selasky in the Free Press Test Kitchen
NoMayo https://nomayo.us/