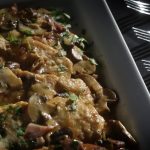 Chicken Marsala with Prosciutto
2018-03-26 16:10:26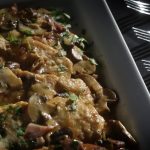 Serves 4
Nutrition Facts
Amount Per Serving
* Percent Daily Values are based on a 2,000 calorie diet. Your Daily Values may be higher or lower depending on your calorie needs.
Ingredients
All-purpose flour, for dredging
Kosher salt and freshly ground black pepper
1 teaspoon dried basil
4 tablespoons unsalted butter, divided
2 tablespoons olive oil
4 thin skinless, boneless, chicken breasts (about 11/4 pounds)
3 ounces prosciutto, cut into pieces
12 ounces cremini or white mushrooms, washed, thinly sliced
1 cup sweet Marsala wine
1/2 cup chicken stock
1/4 cup chopped flat-leaf parsley
Instructions
On a shallow dish or in a pie plate, put a heaping 1/2 cup of flour and season with a few big pinches of salt and pepper along with the dried basil. Mix together to combine.
In a large skillet, heat 2 tablespoons of the butter and 2 tablespoons of oil over medium-high heat. When hot, dredge both sides of the chicken piece in the seasoned flour, shaking off the excess. Slip the chicken into the pan and cook about 4 minutes on each side until golden. Remove the chicken to a platter to keep warm. Add the prosciutto pieces to the same skillet and sauté until just crisp. Use a slotted spoon to remove the pieces and place on same plate as chicken.
Add the mushrooms to the same skillet and sauté until they are tender and the moisture has evaporated, about 5 minutes. Season the mushrooms with salt and pepper. Increase the heat, add the Marsala and cook a few minutes while stirring and scraping up any browned bits in the bottom of the skillet. Reduce the heat to medium and add the chicken stock. Continue simmering to reduce the sauce slightly. Stir in the remaining 2 tablespoons of butter and return the chicken to the pan to warm it. Let it simmer for a few minutes just to heat the chicken through. Season with salt and pepper if desired.
Arrange chicken, mushrooms and sauce on a platter. Sprinkle the crispy proscuitto on top and garnish with chopped parsley.
Notes
Chicken Marsala should have a savory sauce, not gravy, with an added sweetness. The sauce should coat the chicken and the mushrooms, not drown them. Pool a little sauce on the plate for dipping if desired. You also can get creative and spoon some of the sauce on a plate. Give the sauce a swirl with the back of a spoon to spread it out and set a chicken piece on top with some mushrooms. It will look grand.
With the mushrooms, I like an ample amount. My go-to mushroom is the brown mushroom. Some stores label them as cremini, baby bellas or Italian mushrooms. They are mature white mushrooms that tend to be more uniform in size and have a heartier flavor than white mushrooms.
When you prepare the chicken, the pieces should be thin, a little more than about 1/4-inch thick. Aim for an even thickness so the pieces cook evenly. You can buy chicken cutlets or slice your own. My local Meijer store now has chicken labeled "thin sliced." It's a little pricier than other chicken, but well worth it.
The chicken is dredged in seasoned flour before it's pan sautéed. When preparing this dish for a dinner party, you can coat and sauté the chicken in advance and refrigerate it until you're ready to warm it in the sauce.
When buying Marsala (a fortified wine) you have a choice of dry or sweet. I prefer the sweet, but either will work for this dish. Dry, with its smoky nuances, is a better choice for a beef dish. It can be used in place of red wine, for example, in a beef stew recipe.
From and tested by Susan Selasky for the Free Press Test Kitchen
NoMayo https://nomayo.us/