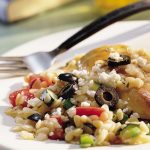 Mediterranean Chicken and Orzo with Feta
2018-03-26 16:07:40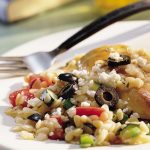 Nutrition Facts
Amount Per Serving
* Percent Daily Values are based on a 2,000 calorie diet. Your Daily Values may be higher or lower depending on your calorie needs.
Ingredients
½ teaspoon salt
¼ teaspoon black pepper
½ teaspoon dried oregano
¼ teaspoon dried mint
5 (4 ounces each) boneless, skinless chicken breasts
1 cup dry orzo
2 tablespoons olive oil, divided
½ cup chopped onion
1⁄3 cup sliced sun-dried tomatoes
3 cloves garlic, peeled, minced
2 cups fat-free, less-sodium chicken broth
4 ounces (about 5 cups) baby spinach leaves
1 tablespoon fresh lemon juice
1⁄3 cup feta cheese
¼ cup chopped kalamata olives
Instructions
In a small dish, combine salt, pepper, oregano and mint. Pat chicken breast dry with paper towel and season with salt and pepper mixture.
In a large nonstick skillet, toast orzo over medium heat until golden brown, 3 to 5 minutes. Transfer to bowl and set aside.
In same skillet, heat 1 tablespoon oil over medium heat. Brown chicken lightly on both sides, about 2 to 3 minutes on each side; transfer to plate. Add remaining 1 tablespoon oil to skillet and sauté onion for 1 to 2 minutes. Add tomatoes and garlic and continue to cook 1 minute.
Stir in broth and orzo. Nestle browned chicken, with accumulated juices, into orzo and cover. Simmer gently until chicken registers 165 degrees, about 8 to 10 minutes. Transfer chicken to a platter and cover to keep warm.
Cover and continue to cook orzo until al dente, about 5 minutes. Stir in spinach, one handful at a time, allowing it to wilt.
Stir in lemon juice, feta and olives. One serving consists of 1 chicken breast and ¾ cup orzo.
Notes
Created by Darlene Zimmerman, MS, RD, for Heart Smart and tested by Susan M. Selasky for the Free Press Test Kitchen
NoMayo https://nomayo.us/