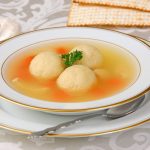 Chicken Matzo Ball Soup
2018-02-14 22:21:02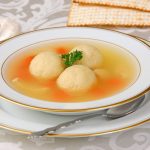 Nutrition Facts
Amount Per Serving
* Percent Daily Values are based on a 2,000 calorie diet. Your Daily Values may be higher or lower depending on your calorie needs.
Ingredients
1 Parsnip
Parsley, 1/2 bunch
Carrots, cut long
1 large onion (whole)
2 stalks celery, cut long
2 garlic cloves
Carmel kosher chicken base
Water
Seasonings
Salt
Pepper
Matzo Balls
Follow recipe on matzo meal box. I usually double or triple the recipe. The mix needs to refrigerate for at least 20 minutes before adding to soup.
Instructions
Fill large pot with water (12 cups) and heat to boiling
As it warms, add 1tsp chicken base per cup of water
Add celery, carrots onion, parsnip and parsley
Throw parsley away and add fresh parsley tops just before serving
Make matzo balls and boil them in the soup til they float
NoMayo https://nomayo.us/