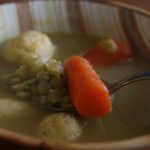 Pea Soup with Matzo Balls
2018-02-14 22:06:12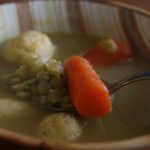 Nutrition Facts
Amount Per Serving
* Percent Daily Values are based on a 2,000 calorie diet. Your Daily Values may be higher or lower depending on your calorie needs.
Ingredients
2 teaspoons canola or olive oil
1 Spanish onion, finely chopped
1/2 pound carrots, peeled, quartered lengthwise, and sliced
1 teaspoon dried tarragon, or 1 tablespoon chopped fresh
1 pound split peas, rinsed and picked over
8-1 0 cups low-salt chicken or vegetable stock
2 tablespoons lemon iuice
Salt
Instructions
Heat oil over low flame in a heavy-bottomed soup pot. Add onion and cook, covered, until golden, about 15 minutes.
2. Add carrots, tarragon, split peas, and 8 cups stock; bring to a boil. Reduce heat to low and cook, partially covered, until peas have fallen apart, about 2 hours.
3. After 1 hour, check to see if you need to add more stock. If so, add 2 cups.
4. Remove from heat and stir in lemon juice. Salt to taste.
Notes
For matzo balls, simply follow directions on matzo meal box. I usually make a double or triple batch.
Adapted from Recipes from the Night Kitchen
Adapted from Recipes from the Night Kitchen
NoMayo https://nomayo.us/