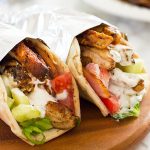 Chicken Shawarma/Kebabs
2018-03-26 16:28:00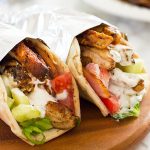 This is my go-to shawarma recipe.
Nutrition Facts
Amount Per Serving
* Percent Daily Values are based on a 2,000 calorie diet. Your Daily Values may be higher or lower depending on your calorie needs.
Ingredients
MARINADE
¼ cup lemon juice
¼ cup canola oil
½ to 1 teaspoon ground oregano or thyme
1 teaspoon smoked paprika
1 teaspoon cumin
4 tablespoons plain yogurt
3 tablespoons white vinegar
4 crushed garlic cloves
1 teaspoon salt
CHICKEN
2 pounds of thin boneless, skinless chicken breast, cubed for skewers
KEBABS
Bell pepper, onion, carrots
FOR SERVING
Tahini sauce or garlic sauce
Pita bread
Cucumber slices
Sliced tomatoes
Instructions
In a large bowl, whisk together all the marinade ingredients. Add the chicken and toss to coat. Cover and refrigerate overnight or at least 6 to 8 hours.
Preheat the grill to medium. Remove chicken from marinade and discard marinade.
Build the kebabs with chicken, separated by peppers, onions, etc.
Grill until cooked through, about 12 minutes, depending on thickness.
For a traditional shawarma sandwich, keep the chicken breast whole, then shred it when it cools. Spread the tahini or garlic sauce on a pita bread, add the shredded chicken, cucumber slices and sliced tomatoes. Roll up the sandwich and grill again slightly just to warm the pita.
Notes
Cook's note: To make the tahini sauce, combine 5 tablespoons tahini (sesame seed paste), ½ teaspoon salt, ½ cup water, 2 garlic cloves pressed through a garlic press and 5 tablespoons lemon juice. To make the garlic sauce, purée 1 peeled bulb of garlic and 1 teaspoon salt in a food processor. Slowly add olive oil 1 tablespoon at time until the mixture becomes white and very creamy. This may take several minutes. Add 1 teaspoon lemon juice and 2 tablespoons plain yogurt. Taste and adjust seasonings as necessary.
From and tested by Susan Selasky for the Free Press Test Kitchen. Analysis with Tahini sauce.
Adapted from Freep
Adapted from Freep
NoMayo https://nomayo.us/