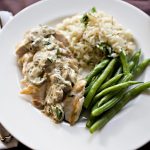 Chicken with Boursin Mushroom Sauce
2018-03-26 16:31:03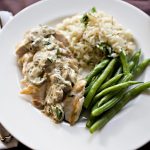 Nutrition Facts
Amount Per Serving
* Percent Daily Values are based on a 2,000 calorie diet. Your Daily Values may be higher or lower depending on your calorie needs.
Ingredients
4 boneless, skinless chicken breasts (the original recipe called for bone-in, skin-on)
salt and pepper
1 tablespoon vegetable oil
1 cup cremini mushrooms (you can easily double this)
1 tablespoon butter
1 minced shallot
½ cup white wine
¼ cup crumbled Boursin cheese (Garlic and Fine Herbs) Don't be afraid to use more.
2 tablespoons chopped parsley
Instructions
Dry your chicken breasts with paper towels and season well with salt and pepper. Flip them over and season the other side.
Braise chicken in a large skillet over medium-high heat. Cook until brown and turn over, about 5 minutes. Flip over and reduce heat to medium and cover. Cook about 15 minutes more or until the chicken reaches 160 degrees. Transfer to a plate and cover with aluminum foil to keep warm. Add the mushrooms and butter to the pan.
Add the shallot and cook until it begins to soften, about a minute.
Add the wine to the pan and scrape up all of the bits from the bottom of the pan. Cook until the wine cooks almost all of the way out.
Take the pan off of the heat and whisk in the Boursin cheese and parsley. Season with salt and pepper.
Pour the Boursin sauce over the chicken. I served the chicken over orzo. Rice pilaf or cous-cous are good substitutes.
Notes
I made this last in January 2021
NoMayo https://nomayo.us/