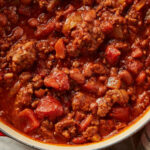 Once-in-a-Lifetime Chili
2021-03-24 13:50:47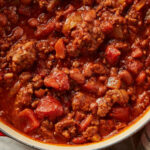 This recipe is a favorite of Dan Comly of Chester, NH, who was kind enough to share it with me.
Nutrition Facts
Amount Per Serving
* Percent Daily Values are based on a 2,000 calorie diet. Your Daily Values may be higher or lower depending on your calorie needs.
Ingredients
1 can tomato sauce, plain (14.5 oz.)
1 can petite diced tomatoes, plain (14.5 oz.), including juice
1 can tomato paste (4 oz.)
1 can dark red kidney beans (14.5 oz.), drained and rinsed
1 onion, diced
1 green pepper, diced
1 clove garlic, finely chopped or put through a garlic press
2 tbsp olive oil
1 tbsp Chili powder
1/2 tsp salt
1/2 tsp pepper
1 lb. ground turkey
Instructions
Heat 2 tbsp olive oil in a large pot and set heat to medium.
Add onions and sauté a few minutes.
Add garlic and green pepper and sauté a few minutes longer.
Add the ground turkey, salt and pepper, sauté until the meat is browned.
Add the tomato products (sauce, diced, paste) and beans.
Add the cooked ground beef and seasonings.
Season to taste. More or less chili powder, salt, pepper as you see fit.
Simmer till heated through.
Variations (the "once-in-a-lifetime" part)
Should work fine with any ground meat. I've used beef, turkey, and chicken. Someday I'll try pork. I'm sure it would work with ground venison, moose, bison - whatever.
Works fine without meat. Consider adding another can of beans.
I've also made meatless variations using tofu. Put silken tofu and tomato sauce in a blender and mix thoroughly. The tofu will disappear. Crumble extra firm tofu and add it to the onions and green peppers as you sauté. Hint: drain the firm tofu.
If you're using fattier ground meat, cook first, by itself. Don't add olive oil, just put it directly in the pan to brown. When browned, drain it. For extra flavor, save some fat (at least 1 tbsp) and use that instead of olive oil to sauté the onions, garlic, and pepper.
If you're using extra lean ground meat or don't care about draining off excess fat or meat essence, sauté the onions, garlic, and green pepper first, then add the meat and brown it mixed with the veggies. That gives you one less dish to wash.
Black beans, pinto beans, light red kidney beans are acceptable substitutes.
If you only have larger cans of sauce or diced tomatoes, use the whole thing. (I hate to use half a can of anything, it always gets pushed to the back of the fridge and forgotten until it's spoiled.) If the result is too watery for your liking, add another 4 oz can of tomato paste to thicken.
If you only have an 8 oz. can of tomato paste, go ahead and use it. If the chili is too thick, add tomato juice or water to thin, an ounce at a time.
No garlic? Use garlic powder. Start with 1/2 tsp. No onion? Use onion powder. Start with 1 tsp. No green pepper? Skip it.
Whole canned tomatoes are an okay substitute for diced, just cut them up. You can do this after you add them to the pot or, if you want to be more precise, put into a metal bowl and cut them.
Want to experiment with the seasonings without risking the entire batch? Put a tbsp or two of your chili in a small dish and add a pinch of a new seasoning there. If you like it, add some to the pot. Start cautiously, 1/2 tsp at a time. Err on the side of too little. Frequently a flavor "expands" as the chili simmers. A quantity that seemed fine when you added it can become overbearing.
Unless you know that the folks you're feeding like hot stuff, add such seasonings (jalapenos, cayenne, crushed red pepper, etc.) cautiously.
NoMayo https://nomayo.us/