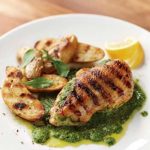 Grilled Pesto Chicken
2018-03-26 17:00:27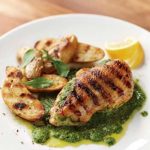 Serves 4
Nutrition Facts
Amount Per Serving
* Percent Daily Values are based on a 2,000 calorie diet. Your Daily Values may be higher or lower depending on your calorie needs.
Ingredients
2 cups fresh basil leaves
1/2 cup flat-leaf parsley
1/2 cup olive oil, divided
Top of Form
Bottom of Form
4 garlic cloves, peeled
1 tablespoon lemon juice
1/2 teaspoon salt
1/3 cup grated Parmesan cheese
1 1/4 pounds, (2 large or 4 small) skin-on, boneless chicken breasts, trimmed of excess fat
Instructions
Place the basil, parsley, 1/4 cup oil, garlic, lemon juice and 1/2 teaspoon salt in a food processor. Process until smooth, about 1 minute, scraping bowl as needed.
Remove 1/4 cup pesto from processor and reserve for marinating chicken. Add Parmesan to pesto in processor and pulse until incorporated, about 3 pulses. Remove 2 heaping tablespoons of pesto for stuffing chicken.
Add the remaining 1/4 cup oil to pesto in processor and pulse until combined. Set aside for saucing cooked chicken; you should have about 1/3 cup pesto.
Starting on thick side of breast, cut a horizontal pocket in each breast about 2 1/2 inches wide, stopping 1/2 inch from edge so halves remain attached.
Season chicken, inside and out, with salt and pepper. Place 1 heaping tablespoon of Parmesan pesto in pocket of each breast.
Fold the non-skin side of the breast in toward the pocket so the skin side folds over some. Using kitchen twine, tie the breast at intervals.
Place stuffed breasts in bowl and add pesto reserved for marinating. Rub pesto all over chicken, cover and refrigerate for 1 hour.
Preheat or prepare the grill for indirect heat. (For charcoal, place ash-covered coals on one side of the grill and replace grate. For a gas grill, light all burners to high and then turn all but one to medium-low.)
Oil the grill grate. Place chicken, skin side up, on grill away from the heat. Cover and cook about 10 minutes. Flip chicken skin-side down. If using charcoal, slide chicken to hot part of grill. Cover and cook until well browned, about 10 minutes. Using tongs, turn chicken to brown on all sides, and cook until it reached an internal temperature of 165 degrees. Transfer chicken to platter, tent loosely with foil and let rest for 5 minutes. Remove twine from chicken, and cut into 1/4-inch thick slices. Serve with remaining pesto on the side.
Notes
Adapted from Cook's Country magazine, June/July 2012 issue. Tested by Susan Selasky in the Free Press Test Kitchen.
Adapted from Cook's Country
Adapted from Cook's Country
NoMayo https://nomayo.us/