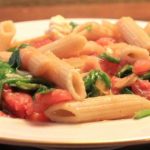 Greek Penne with Tomatoes and Beans
2018-03-27 10:45:46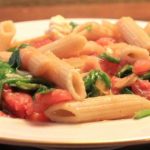 Serves 4
From Tina Miller, Tested by Susan M. Selasky in the Free Press Test Kitchen.
Nutrition Facts
Amount Per Serving
* Percent Daily Values are based on a 2,000 calorie diet. Your Daily Values may be higher or lower depending on your calorie needs.
Ingredients
8 ounces whole wheat penne pasta such as Barilla Plus penne pasta
2 cans (14.5 ounces each) Italian-style diced tomatoes
1 can (15 ounces) cannellini beans, rinsed and drained
10 ounces fresh spinach, washed
1/2 cup reduced-fat crumbled feta cheese
Instructions
Cook the pasta in a large pot of boiling salted water until al dente; drain.
Meanwhile, in a large nonstick skillet, combine the tomatoes and beans. Bring to a boil over medium high heat. Reduce heat and simmer 10 minutes.
Add spinach to the sauce; cook for 2 minutes or until spinach wilts, stirring constantly.
Stir pasta into spinach mixture and heat through.
Sprinkle with feta cheese and serve.
Notes
Recipe: Greek Pasta with Tomatoes and Beans | freep.com | Detroit Free Press http://www.freep.com/article/20101017/FEATURES02/10170345/Greek-Pasta-with-Tomatoes-and-Beans#ixzz12evFPPCw
NoMayo https://nomayo.us/