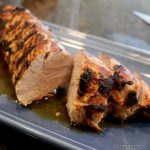 Marinated and Grilled Pork Tenderloin
2018-03-27 13:36:24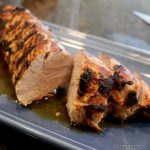 Nutrition Facts
Amount Per Serving
* Percent Daily Values are based on a 2,000 calorie diet. Your Daily Values may be higher or lower depending on your calorie needs.
Ingredients
1 - 2 pounds pork tenderloin (2 tenderloins)
1/2 cup Soy sauce
1/4 cup Balsamic vinegar
4 cloves garlic (minced)
1/4 cup brown sugar
-
MUSTARD SAUCE
French mustard seed (such as Edmond Fallot Old Fashioned Seeded Dijon Mustard)
Crème fraîche (such as Vermont Creamery brand)
Use 1-to-3 mixture of mustard seed and crème fraîche
Instructions
Pay attention, there aren't many steps involved in producing the best grilled pork tenderloin. This piece of meat is so tender, it doesn't need a lot of help! Mix all of the marinade ingredients together and pour into a large Ziplock type bag. Place the tenderloins in the bag and squeeze out as much air as possible before sealing. Place the bag in the refrigerator and marinade for at least an hour, up to 24 hours.
Remove the tenderloins from the marinade about 30 minutes before you are ready to grill and allow to gently warm up on the counter.
Heat the grill to medium-high heat.
Now we have a tenderloin that has been soaked in some great flavors, we need to make sure we don't screw it up on the grill! The key to properly grilling a pork tenderloin is to evenly cook the pork through by grilling each of the four sides. This cut of pork is tubular, so we want to roll it to each of the four sides while we grill.
Once the grill is heated, place the tenderloin on the grill and grill the first side for around 5 minutes (times vary per grill, you are looking for a nice crust to form like shown in the photo, but not too much charring!).
After 5 minutes, roll the tenderloin onto the the next side and grill for another 5 minutes.
You know the drill now, 5 minutes per side, until an instant thermometer reads around 150 degrees.
Allow the grilled pork tenderloin to rest on a platter for about 10 minutes before you slice into it, we want those juices to redistribute.
Notes
The key is to grill it properly, over high heat and turning often to get a nice caramelized crust without drying out the pork.
NoMayo https://nomayo.us/