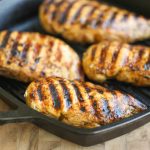 Grilled Barbecue Chicken
2018-03-27 13:33:17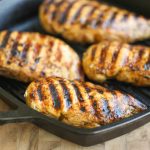 Nutrition Facts
Amount Per Serving
* Percent Daily Values are based on a 2,000 calorie diet. Your Daily Values may be higher or lower depending on your calorie needs.
Ingredients
1 1/2 tablespoon sweet paprika
1/2 teaspoon granulated garlic
3/4 teaspoon coarse sea salt
1/8 teaspoon cayenne pepper
2/3 cup barbecue sauce, plus more for serving
2 (8-ounce) large boneless, skinless chicken breasts
4 boneless, skinless chicken thighs
Instructions
Prepare a grill for medium-high cooking or heat a grill pan over high heat. In a small bowl, combine paprika, garlic, salt and cayenne.
Place chicken breasts on a cutting board and split each horizontally with a sharp knife, forming 2 thinner cutlets. Sprinkle cutlets and thighs all over with the spice mixture. Place thighs on the grill; cook for 2 minutes, and then place breast cutlets on the grill. Cook chicken, turning and flipping pieces several times, until just about cooked through, about 8 minutes longer on the grill or 10 minutes longer on a grill pan. Baste with barbecue sauce and cook on each side about 1 minute longer. Serve with more barbecue sauce on the side.
NoMayo https://nomayo.us/