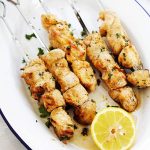 Marinated Chicken Kebabs
2018-03-27 13:41:24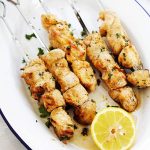 Serves 4
Nutrition Facts
Amount Per Serving
* Percent Daily Values are based on a 2,000 calorie diet. Your Daily Values may be higher or lower depending on your calorie needs.
Ingredients
1 pound skinless, boneless chicken breasts
1/2 cup plain low fat yogurt
2 garlic cloves, finely chopped
1/4 cup onion, finely chopped
1 tsp freshly grated ginger
1 tsp ground cumin
1 tsp ground coriander
1/2 tsp cinnamon
1/2 tsp turmeric
2 tbsp fresh lemon juice
Instructions
Cut chicken into 1-inch pieces and place in a large resealable plastic bag.
Combine yogurt, garlic, onion, spices and lemon juice in a small bowl. Spoon marinade into bag with chicken. Seal the bag, removing excess air, and move chicken pieces around until coated. Refrigerate for 4 hours, or overnight.
Soak wooden skewers in cold water 30 minutes before you intend to use them.
Spray grill with nonstick cooking spray then preheat grill to medium high. While grill is preheating, thread marinated chicken pieces on to presoaked skewers. Discard remaining marinade. Place skewers on grill rack and grill for 5-6 minutes each side or until cooked through.
NoMayo https://nomayo.us/