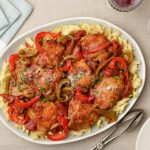 Martha Stewart Chicken Cacciatore
2018-03-27 13:46:36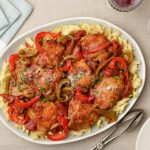 Serves 6
Nutrition Facts
Amount Per Serving
* Percent Daily Values are based on a 2,000 calorie diet. Your Daily Values may be higher or lower depending on your calorie needs.
Ingredients
One-and-a-half 3-pound chickens, cut into 12 pieces
1 tablespoon extra-virgin olive oil
1 1/2 pounds cremini mushrooms or white mushrooms, quartered
2 large onions, sliced 1/4 inch thick
2 large bell peppers (preferably 1 red and 1 green), sliced 1/4 inch thick
4 garlic cloves, smashed
1/2 cup dry red wine
One 28-ounce can crushed Italian tomatoes
One 14 1/2-ounce can low-sodium chicken broth, skimmed of fat
3/4 pound linguine
Coarse salt
1/4 cup chopped fresh basil or flat-leaf parsley (optional)
Instructions
Reserve chicken wings for another use. Remove skin from chicken; halve breasts crosswise; you will have 6 pieces of dark meat and 6 pieces of light meat.
Heat a deep 10-inch skillet or 6-quart Dutch oven over medium heat until hot. Add half the chicken pieces; cook until browned, about 8 minutes, turning once. Transfer to a plate. Repeat with remaining chicken.
In same pan, heat 1/2 tablespoon olive oil. Add mushrooms; cook on medium-high, stirring, until softened and browned, about 7 minutes. Transfer to a bowl.
Add remaining 1/2 tablespoon oil to pan; add onions, peppers, and garlic; cook on medium-high, stirring occasionally, until golden, about 4 minutes. Pour in wine; bring to a boil. Cook until almost evaporated, about 3 minutes. Add tomatoes and broth; return chicken to pan. Simmer, turning occasionally, until meat is tender and sauce is thickened, about 1 hour. Stir in mushrooms. Cook linguine in a large pot of boiling salted water until al dente. Drain; serve with chicken and sauce. Garnish with basil or parsley if desired.
Notes
http://www.marthastewart.com/recipe/chicken-cacciatore#ixzz1HAfLYSvB
NoMayo https://nomayo.us/