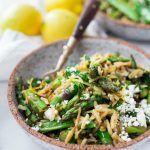 Orzo with Asparagus, Lemon and Dill
2018-04-06 15:22:01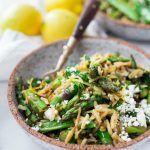 Serves 4
Nutrition Facts
Amount Per Serving
* Percent Daily Values are based on a 2,000 calorie diet. Your Daily Values may be higher or lower depending on your calorie needs.
Ingredients
6-7 ounces orzo
2 tablespoons olive oil
1 shallot- diced
3 garlic cloves- rough chopped
1 extra large bunch asparagus, tough ends removed, cut into 1 inch pieces.
1 cup snap peas
½- ¾ teaspoon salt and pepper ( see notes)
2 lemons ( or sub one lemon, with preserved lemon)
½ cup fresh dill
crumbled feta ( optional)
Instructions
Set salted water to boil and cook orzo according to directions.
In a large skillet, heat oil over medium heat.
Add chopped shallot and garlic, and stir frequently, saute until golden and fragrant.
Add asparagus and snap peas. Saute 5-7 minutes stirring often, scooping up the shallot from the bottom of the pan. Add salt and pepper. Cook until asparagus it is bright green, and little a little crisp, cooked to al dente. The thinner the asparagus, the faster it will cook. Turn heat off. Add the zest of one lemon.
Drain pasta and if serving warm, save a little of the hot pasta water. (For Chilled pasta, see notes below. )
Add the warm orzo pasta to the skillet with the asparagus and just a little pasta water to loosen it up to your liking. Stir. Add a generous squeeze of lemon juice and finely chopped preserved lemon if using ( 1-2 tablespoons). Taste for salt and lemon. Add more if necessary or if it tastes bland. Fold in the fresh dill and sprinkle with optional feta ( keeping in mind that feta will add salt too). Serve immediately.
Notes
If serving chilled, place the cooked asparagus mixture in a bowl and let it cool. Rinse the cooked orzo with very cold water until cold. Drain, add to bowl. Drizzle with a little olive oil, generous squeeze of lemon juice, optional preserved lemon. Mix and adjust salt and lemon, adding more if bland. The pasta will soak up the salt when it sits in the fridge so it will probably need more later. Refrigerate – then taste once more before serving, again adjusting, adding more lemon and salt to taste. Fold in the fresh dill right before serving. Add crumbled feta.
NoMayo https://nomayo.us/