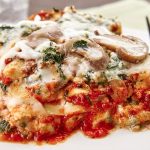 Lasagna with Leeks and Roasted Red Pepper
2018-04-03 16:48:06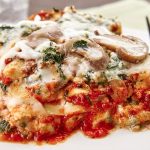 Nutrition Facts
Amount Per Serving
* Percent Daily Values are based on a 2,000 calorie diet. Your Daily Values may be higher or lower depending on your calorie needs.
Ingredients
Nonstick cooking spray
1 tablespoon olive oil
4 cups chopped leeks
2 red bell peppers, washed, cored and diced or roasted red peppers, diced
1-pound mushrooms, cleaned and sliced
1/4 cup chopped fresh basil
1/2 cup shredded fat-free or light
mozzarella cheese
1/1 cup grated Parmesan cheese
2 cups light ricotta cheese
1 teaspoon green peppercorns, crushed
3 cups favorite pasta sauce such as a jar of spicy red pepper
8 ounces no-boil lasagna noodles or enough for 3 layers
TOPPING
2/3 cup Parmesan cheese
1/2, cup fat-free or light shredded mozzarella cheese
Instructions
Preheat oven to 350 degrees. Spray a 12-by-8-by-2-inch lasagna pan with nonstick cooking spray; set aside.
In a large nonstick skillet, warm the olive oil. Add the leeks and sauté until they soften, about 5 minutes. Add the red peppers and sauté an additional 3-4 minutes. Add the mushrooms and sauté until they give off their juices, about 3-4 minutes. Stir in the fresh basil and set aside.
Meanwhile, in a medium bowl, combine mozzarella, Parmesan, ricotta and crushed green peppercorns. Mix well.
Spread about 1/2 cup of the pasta sauce on the bottom of the prepared dish. Place a layer of noodles on top of the sauce. Top with half the sautéed vegetables, 1 cup of the remaining pasta sauce and half of the cheese mixture.
Repeat with another layer, using ½ cup of the remaining
sauce. For the final layer, place a layer of noodles followed by the remaining pasta sauce.
Sprinkle with the topping ingredients. Cover with foil and bake for 30-40 minutes or until the vegetables are bubbly and the top cheese layer has melted. For the last 10 minutes of baking,
remove the foil.
Remove from oven, and let sit for 10-15 minutes before serving.
NoMayo https://nomayo.us/