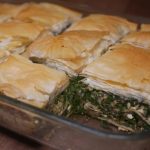 Sara's Spinach Pie
2018-02-14 21:14:07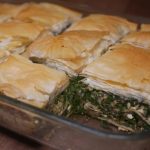 Nutrition Facts
Amount Per Serving
* Percent Daily Values are based on a 2,000 calorie diet. Your Daily Values may be higher or lower depending on your calorie needs.
Ingredients
3 tablespoons olive oil, more as needed
2 large yellow onions, finely chopped
Sea salt
2 pounds fresh spinach, washed and thoroughly dried
Vegetable oil or nonstick spray, for oiling pan
1 pound feta cheese, rinsed in cool water, then crumbled
12 ounces ricotta cheese, drained
5 ounces (about 2 cups) finely grated Parmigiano-Reggiano
5 large eggs, lightly beaten
Freshly ground black pepper
1 to 2 tablespoons finely chopped fresh dill, or to taste.
Instructions
1. In a large skillet over low heat, heat olive oil. Add onions and pinch of salt, and sauté until soft and beginning to turn golden, 30 to 40 minutes. Transfer to a large mixing bowl.
2. Return pan to medium heat. Working in batches and adding oil 1 tablespoon at a time as needed, sauté spinach until wilted, then transfer to a bowl. Coarsely chop cooked spinach, then squeeze hard to remove as much excess liquid as possible.
3. Preheat oven to 325 degrees. Lightly oil a shallow 9-by-13-inch baking dish and set aside. In a large bowl, combine feta, ricotta, Parmigiano-Reggiano, eggs and a generous amount of pepper. Mix well. Add spinach and onions and mix thoroughly. Add dill, and toss to blend. Spoon into baking dish, pat down evenly and drizzle lightly with olive oil.
4. Bake pie for 30 minutes. Raise heat to 350 degrees and bake until lightly firm in center and golden on top, about 20 more minutes. If top begins to brown too much, cover lightly with foil. To serve, allow pie to cool slightly before cutting into squares. It may also be served cold.
Notes
I don't know who Sara is.
NoMayo https://nomayo.us/