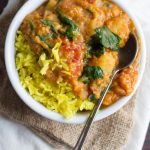 Spicy Ethiopian Lentil Stew
2018-10-11 16:36:23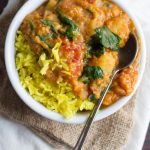 Nutrition Facts
Amount Per Serving
* Percent Daily Values are based on a 2,000 calorie diet. Your Daily Values may be higher or lower depending on your calorie needs.
Ingredients
2 tbsp. olive oil
1 medium onion, diced
3 garlic cloves, minced
1 1/2 tsp. freshly grated ginger
1-2 tbsp. berbere spice blend, to taste, I went with 2 tablespoons but I like lots of spice
1/2-1 tsp. cayenne pepper, or to taste, optional
4 cups vegetable broth
1 1/2 cups dried red lentils
1-14 oz. can diced tomatoes
3 medium red potatoes, about 3/4 lb. total, diced
3 cups fresh spinach leaves, sliced and lightly packed
salt and pepper to taste
Instructions
Coat the bottom of a large pot with oil and place over medium heat. Add onion and sauté until soft, about 5 minutes. Add garlic, ginger, berbere spice and cayenne and sauté 1 minute more.
Add broth, lentils, tomatoes and potatoes. Stir a few times, raise heat and bring to a simmer. Lower heat and allow to cook until lentils are very soft and potatoes are tender, about 30 minutes. Stir in spinach and continue to cook just until wilted, about 2 minutes.
Remove from heat and season with salt and pepper to taste. You can also add a bit more berbere and cayenne, if desired.
Notes
I haven't tried this yet. 10/11/18
NoMayo https://nomayo.us/